Magickal Art by Morgaine du Mer MagickMermaid Studio
About Morgaine du Mer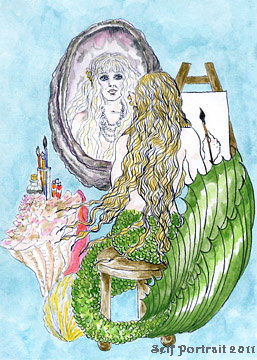 As a child I could usually be found with my nose in a book, endlessly daydreaming of far-off destinations, times gone by and magickal kingdoms. The seaside has always been especially enchanting to me. I enjoyed imagining my own fantasy world then. Now I live in it! And paint whatever or whoever curiously appears in my imagination. Sometimes whimsical, sometimes mythological, sometimes dark. I am inspired by nature, the metaphysical, and sacred places I have visited.

I am entirely self-taught working in the mediums of pen and ink, acrylics and watercolours. The original paintings from which I produce the prints take many hours to complete. All artwork is hand-drawn, inked and painted individually. Only fonts are computer-generated.

I use state-of-the art equipment to create a fine art print that is as close to the original as possible. Each print is made by me on Archival (acid-free) Matte paper with Archival Inks (lightfastness rated at over 100 years if displayed indoors under glass). Seven colours of ink are sprayed simultaneously onto the paper creating a dazzling array of hues. Known as Giclee, this is a more expensive process than laser and basic ink jet printing. The detail is sharp and the colours are as vivid as the originals. Mats and backboards are acid-free. Each print is signed.

Thank you so much for visiting and adding my artwork to your collection!

POLICIES
ORDERING
:

All sales are handled through PAYPAL, a safe, secure system that accepts major credit cards and PayPal Debit Card. You can shop with confidence using PAYPAL because your personal credit information is kept completely private. Your personal information is never shared by Paypal or me. MagickMermaid and Paypal offer buyer protection.

After adding item to cart you will be directed to
https://paypal.com


You can
Pay with your PayPal account.
OR
Choose
Pay as a Guest
to use your
credit card
at checkout.
Prints are packaged individually in new acid-free sleeves with new acid-free boards or mats and wrapped securely for mailing. In an effort to be environmentally responsible I have opted to use as many recyclable packaging materials as possible.

Please note: Depending on your monitor, web images may appear blurry due to low resolution and colours may also vary slightly. The actual prints you will receive are high resolution; sharp and detailed as the original. Copyright information appears on web images only; it is not on the prints you receive.
CUSTOM WEDDING & HANDFASTING VOWS :


CLICK HERE to add your names, date and vows information
OR email to: morgaine@magickmermaid.com
I will then email a proof for your approval within 2 business days. Once the design is approved I will print and mail within 2-3 business days.

***Your personalised print will be shipped via USPS First Class Mail with Insurance and Tracking.
***To ensure that your order arrives in advance of the wedding, please be sure to order 7 business days before for United States and 21 days for International.
Please consider the Priority Mail upgrade. ***
MAILING INFORMATION:

USA Orders are mailed via U.S. Postal Service First Class Mail with Tracking Number and Insurance OR Priority Rate with Tracking Number and Insurance. Postage rates are determined by the USPS; there are no additional charges added to mailing rates.

Every order is 100% insured for the value of the print and postage.
U.S. Orders-Free Shipping

USA orders should arrive 1 week from the date of order placement.


International Orders- via USPS International Mail
Calculated by price of prints ordered. Mailing fee on art cards and birthday/greeting cards will be adjusted to lowest fee and overages will be refunded immediately. Please email if you would like an adjusted bill before ordering.

International orders may take at least 2-3 weeks depending upon destination.


There may be customs fees depending upon location and/or the amount of purchase.

If there are any shipping delays I will notify you immediately.
CUSTOMER SERVICE:

Please contact me morgaine@magickmermaid.com with any questions you may have.

Customer satisfaction is my main priority! If there is any problem please contact me immediately and I will do whatever I can to make things 100% right.
I can accept returns or exchanges if notified within 5 days with return postage to be paid by the customer. Prints must be in original packaging and condition for return or exchange.

Custom personalised orders are not returnable.

If your order arrives damaged, please contact me immediately at
morgaine@magickmermaid.com
COPYRIGHT INFORMATION

https//:magickmermaid.com is the official website of Morgaine du Mer.

All images on this website and website content are property of the artist and under copyright protection.

These images and stories may not be used, reproduced or sold elsewhere in any form without the artist's permission.
To do so is an infringement of International Copyright Laws.

Customer is purchasing individual image only. All rights to all images and stories on this website and other venues listed below where artwork by Morgaine du Mer is displayed and sold are retained by Morgaine du Mer.

***IMPORTANT NOTE: My artwork is sold only on this website, my blog magickmermaidstudio.com etsy (magickmermaid.etsy.com) and ebay . If you have seen my art on other sites, please be aware that the listings have been copied and fraudulently used without permission. Please do not order from these sites; they are collecting credit card information and have no physical items to sell.***

Artwork Copyright ©Morgaine du Mer 2006-2021
Website Design and Content ©2006-2021
All Rights Reserved.
PRIVACY
:
Your privacy is extremely important!

https://
magickmermaid.com
is a secure website that does not collect or save any personal information.

1-Your personal information (name, postal address, email, customisation details if applicable) is used solely for the purpose of fulfilling your order and to provide customer support if necessary. Your personal information is never shared by Morgaine du Mer, MagickMermaid.
You may also choose to provide me with additional personal information (for a custom wedding or zodiac sign order), when the order for these items is placed.

2-MagickMermaid does not have access to your credit card information. All sales are processed PayPal. Credit card numbers, expiration dates and security codes are never shared by PayPal with sellers.
3-MagickMermaid does not store any information on the Cloud, have a third-party shipping provider, use third-party hosting services or provide any customer data to third-party marketing.
4-MagickMermaid does not have a mailing list, newsletter, send marketing messages of any kind or contact customers by the postal service or email after their orders have been
received.

5-MagickMermaid keeps records of orders. If you would like your information deleted please contact me: morgaine@magickmermaid.com


PRINT FORMATS: Prints are Unmatted unless otherwise noted
2.5 inch x 3.5 inch (6.35cm x 7.52cm) Art Miniatures (ACEO/ATC)

5 inch x 7 inch Unmatted (printed on 8.5 inch x 11 inch paper)
(12.7cm x 17.78cm Unmatted)
fits in standard 5"x7" frame after trimming

8 inch x 1 0 inch Matted
Image size 4.5 inch x 6.5 inch
(20.32cm x 25.4cm Matted--Image size 11.4cm x 16.51cm)
fits in standard 8"x10" frame  

8 inch x 10 inch Unmatted (printed on 8.5 inch x 11 inch paper)
(20.32cm x 25.4cm Unmatted)
fits in standard 8" x 10" frame after trimming

11 inch x 14 inch Unmatted
(29.72cm x 41.91cm Unmatted)

Artwork Copyright
©Morgaine du Mer 2006-2021
Website Design and Content
©2006-2021
All Rights Reserved.
Ordering MagickMermaid Art
Ordering MagickMermaid Art
Visit my blog for illustrated stories! https://magickmermaidstudio.com